Festo
Festo, an independent family business, is a leading global provider of automation technology and engineering education, leveraging its technology, products and services to meet the challenges of its customers who want smarter manufacturing. Digitalisation, artificial intelligence and machine learning are the key technologies for this.
Festo has been actively involved in shaping Industry 4.0 for around 10 years and has, for example, helped to define several industry standards. 
Worldwide, 300,000 customers in factory and process automation rely on the company's pneumatic and electric drive solutions. In addition, Festo provides didactic state-of-the-art training solutions for 56,000 industrial companies and educational institutions around the world.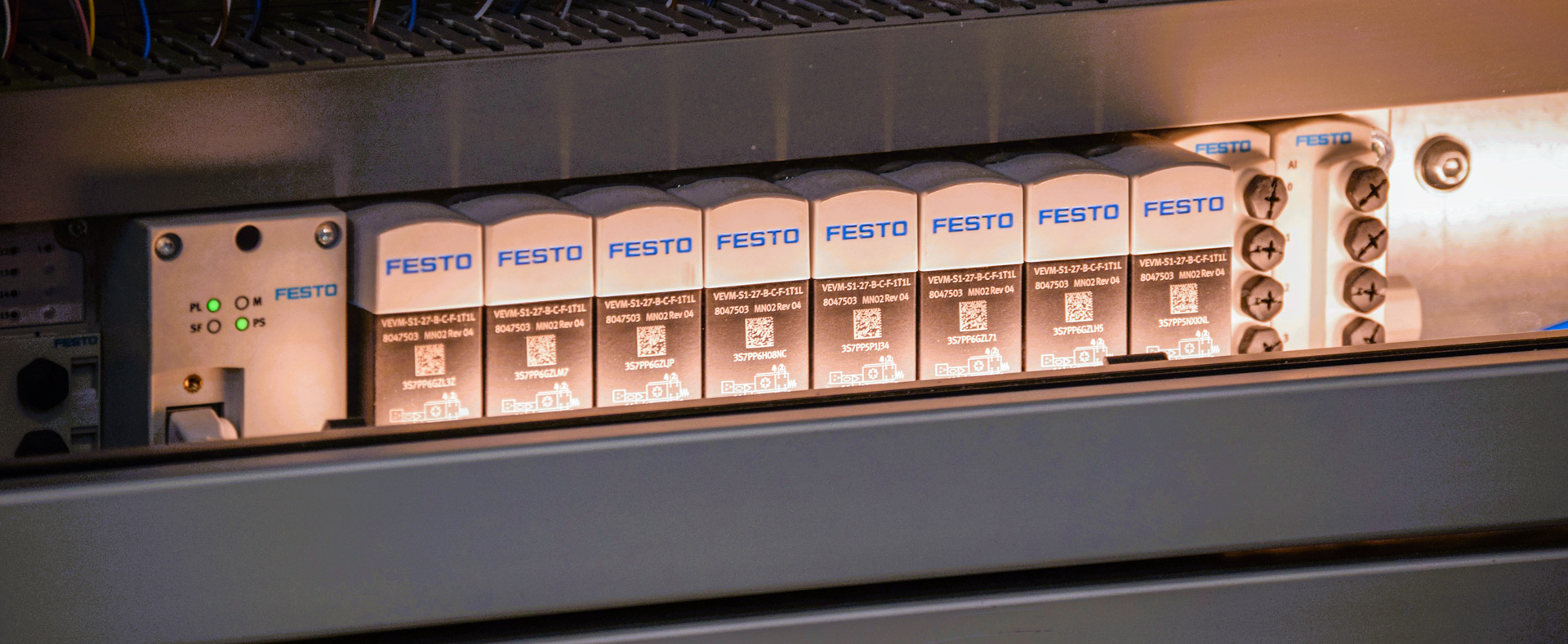 Festo's role in SmartFactory
In the SmartFactory project Festo has worked on the realisation of 3 production modules:
The storage module;
The insertion module;
The screw module. 
In all modules of the SmartFactory project we use Festo's revolutionairy digitised pneumatic "smart"-concept called "Festo Motion Terminal". 
With the Festo motion terminal(s) in the storage module, in the insertion module & in the screw module, Festo provides for controlled movement and lifting of workstations throughout the production line. Regardless of the weight of the workstations to be handled (in function of the number and type of parts), the pneumatic movement during the transfer of the workstations is smooth & controlled. This continuity throughout the production line can be realised by flexibly and digitally customising the pneumatic parameters in function of the workstations and the product sets to be processed.    
In the insertion module, we also use the motion terminal to insert the PCB unit into the housing with the aid of pneumatic force control and linear position feedback of the insertion cylinders. During this assembly process, we can guarantee quality and flexibly change parameters according to the product type.  
The actuators connected to the motion terminal switch their function flexibly during the course of the production process. The "motion terminal" is a smart product in which different pneumatic functions can be varied with apps in one hardware platform. 
In the Storage module of the SmartFactory we also used a servo-electrically driven XYZ-handling unit (EXCH-40 parallel robot concept) which places the various assembly parts in workstations and picks up the finished products from workstations to store them in a warehouse.   
The engineering process of this handling unit is fully digitally configured via our web configurator HGO (handling guide online). Digitally generated configuration files for this kinematics were also used for commissioning. 
Advantages of Festo in SmartFactory
With this HGO concept for single or multi-axis handling units, we focus on modularisation & standardisation in the industry. This saves time & money and increases the quality of the solution in all project phases, from design to order, delivery, assembly, commissioning and during operation & maintenance.
With this smart concept, we are able to supply ready-to-use multi-axis handling units in construction modules or fully assembled and functionally tested with quality assurance, low development costs and guaranteed rapid commissioning.
More information about the other partners