Beckhoff Automation in SmartFactory
Beckhoff Automation
Beckhoff realises open, PC-based automation systems. The product range covers the key areas of industrial PCs, I/O and fieldbus components, drive technology, automation software and automation without control cabinets. For all areas, products are available that function as individual components or in groups as a complete, coordinated control system.   
New Automation Technology
The Beckhoff New Automation Technology stands for universal and industry-independent control and automation solutions that are used worldwide in a wide variety of applications, from CNC machine tools to intelligent building controls.
Beckhoff's role in SmartFactory
Beckhoff demonstrates in the storage and insertion unit of the SmartFactory project an open integration with a multitude of industrial protocols, technologies and standards. 
Both units contain typical Beckhoff hardware for the control of all components. Each unit has an ultra-compact industrial PC with the well-known TwinCAT control software at its heart to ensure standalone functionality. A standard controller for the basic work and a more powerful one for future expansion with XPlanar, XTS and/or robots. As the underlying structure, the PackML State Model is implemented in the TwinCAT controllers. By using the PackML standard, a common 'look and feel' is created within a factory's machine park, which promotes reusability and consistency. The PackML State Model is visualised and manipulated via TwinCAT HMI, an HTML5 web-based visualisation package developed by Beckhoff. 
EtherCAT for real-time communication, Ethernet TCP/IP for the Smart Camera, MQTT for IoT and IO Link for the tag readers were among the tools used to communicate with the components in the units. Orders and statuses are communicated to and from the higher-level line controller via OPC UA. All data is normalised via Packtags from the PackML standard so that it can be used efficiently in the higher layers of the OSI model. Both units contain an X/Y/Z manipulator that is controlled via the TwinCAT kinematic transformation. Local safety is handled via Safety Over EtherCAT by a standalone Beckhoff EK1960 TwinSAFE controller that also acts as a decentralised island for the required IO within the unit. To enable safety communication with the neighbouring Siemens controller, PROFIsafe was also included as a protocol within the Beckhoff TwinSAFE controller. 
Advantages of Beckhoff in SmartFactory
By seamlessly integrating standards such as OPC UA and PackML, open protocols like EtherCAT, Ethernet TCP/IP and MQTT or integrating proprietary protocols like ProfiSAFE, Beckhoff's TwinCAT software and hardware are ready for the future and any challenges that may come their way.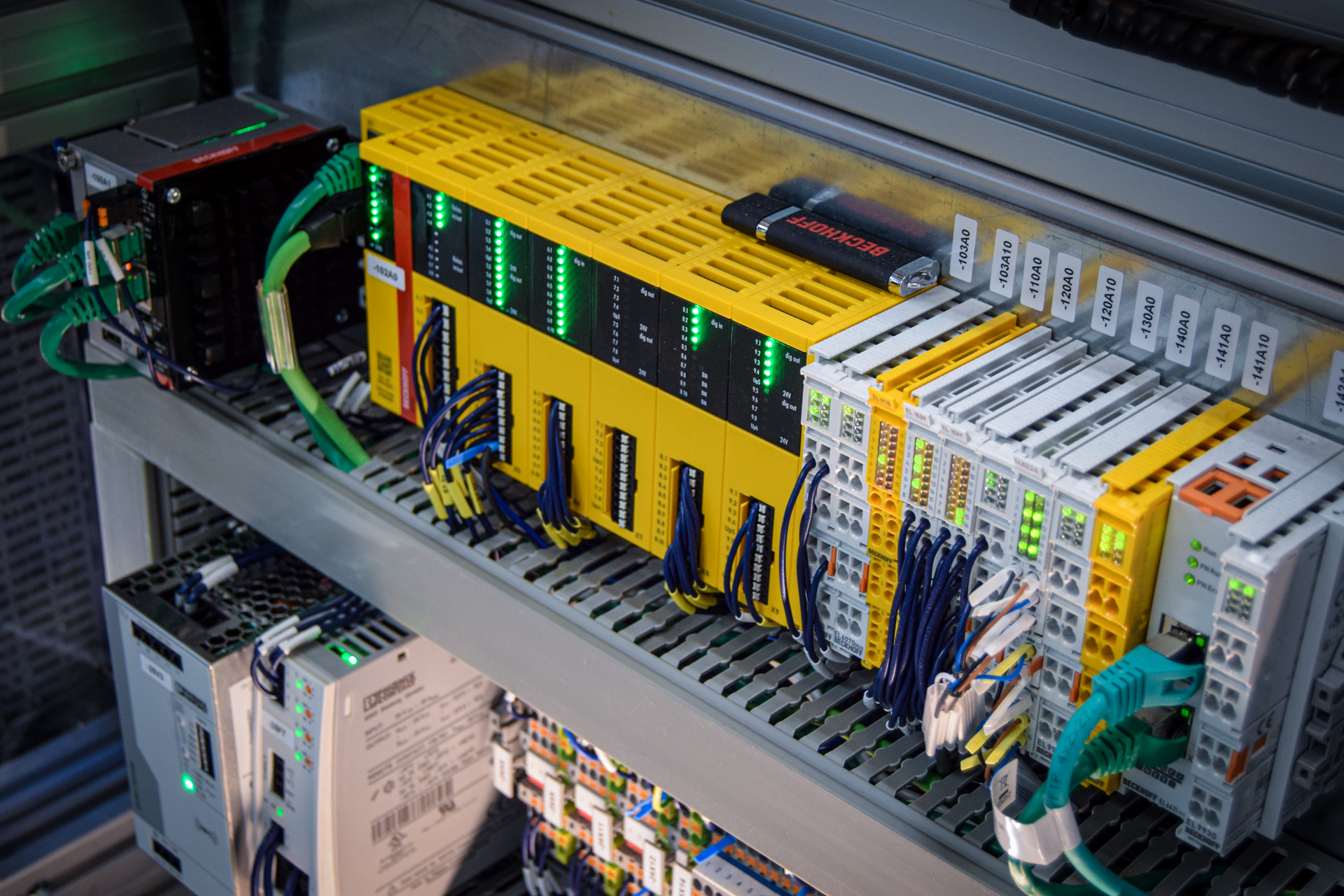 More information about the other partners