Production innovation: how manufacturing companies can stay on top of their game
Production innovation: how manufacturing companies can stay on top of their game
Today, most companies invest in product-R&D because they want to respond to a specific customer demand. It's their way to create added value and remain competitive in a global world. However, only few companies invest in production-R&D or production innovation. Those who do, understand the benefits. Here's why.
A BEST-IN-CLASS MINDSET
Product- and production-R&D are intrinsically linked. For a product to become a commercial success, you not only need a well-performing product but also competitive pricing. Such competitive pricing is the result of different components such as a good purchase price and low-cost production. This dynamic allows you to make a profit.
Today, the lowest production costs are realised in highly innovative production environments, so-called "lead plants". A lead plant is the result of a "best-in-class" mindset and the commitment to continuously improve the plant's performances by using state-of-the-art technology. This is how such plants can be and remain competitive in a global world. The management of these lead plants makes the difference by investing in production innovation and by budgeting production-R&D next to product-R&D – thus demonstrating a long-term vision.
CREATING THE FACTORY FOR THE FUTURE
Reaching the status of a lead plant is a major challenge as it requires courage and perseverance. Besides, this is only a starting point, the real purpose must be to stay at the top. In order to keep a competitive edge, innovation must be both incremental and disruptive and, above all, fast, increasing the speed of production. It is not about creating a factory of the future but rather about creating a factory (that is ready) for the future. This can be achieved by production plants of large companies and SMEs alike.
BEYOND LOW-HANGING FRUIT: PRODUCTION AS A DRIVER FOR INCREASED COMPETITIVENESS
Companies should begin to realise that having the best possible production facility has a truly positive impact on their competitiveness.
Therefore, companies should start considering production as a driver for increased competitiveness rather than a mere "cost" centre. Hence, R&D budgets should support production innovation. But this requires a longer-term vision. Investments in production generally pay off in 1 to 3 years. Often, "the low-hanging fruit" has already been harvested and perseverance is needed to obtain sustainable results.
The following figure reflects the rationale why production innovation is a driver for increased competitiveness and profit.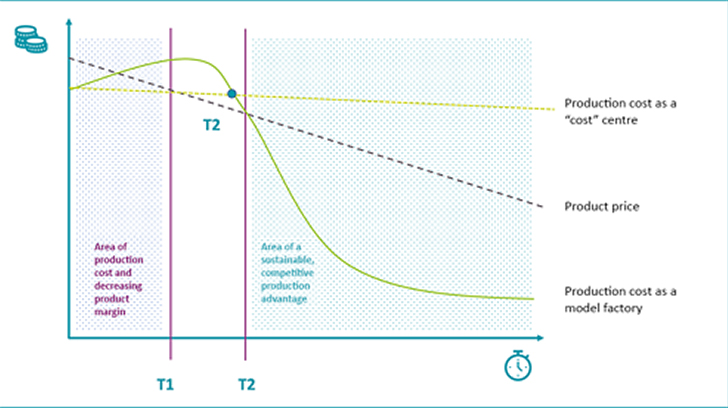 The product price (dashed line), without performance upgrades, tends to reduce over time as customers become accustomed to certain new features and no longer want to pay the corresponding surplus. If the production cost (dotted line) is not upgraded or only to a limited extent (at point in time T1 in the figure), margins drop to 0 (zero) and the product becomes uncompetitive. This is referred to as the area of production cost and decreasing product margin. The company struggles to maintain a competitive production cost.
If, on the other, companies invest in production innovation with the mindset to become "best-in-class" (or, in other words, to become a lead plant), the production cost curve will be different. Initial investments will make the production cost higher (solid line) as the R&D costs must be depreciated, making such investments less interesting. However, when reaching point in time T2, the cost will already start being lower than the initial production cost and this is only the beginning. At point in time T3, product price and production cost are again in balance. From that moment on, you enter the area of a sustainable, competitive production advantage. The product margin starts to increase significantly, which results in a competitive situation that even allows for a price reduction, should this be needed. The company will uphold its margin and can make life difficult for the competition. The company will be leading in terms of production cost.
The easiest way to reach "lead plant status" is to develop a strategic plan for becoming "best-in-class", implement it rigorously and be ready to do whatever it takes to uphold that position once reached. This means continuing to invest in production innovation..
Innovation can best be accomplished in collaboration with other companies – from within and beyond one's own sector – and knowledge centres. By joining forces, even very different companies may learn that their challenges are quite similar and that the outlines of potential solutions run parallel. Such alliances bring in new ideas and force you to challenge yourself against other companies with state-of-the art technology. The mix of competences in such project teams stimulates disruptive thinking and accelerates production innovation.
CLOSING THE LOOP FOR GROWTH
Lead plants catch the attention from customers and from the top management of large companies. Complex products easily find their way to high-performance production environments. They are considered as trusted partners that are able to meet the high requirements of demanding customers. And because their investments pay off, they can keep their production cost at an acceptable level – even in countries with high labour costs. The margins remain sufficiently high and are re-invested in knowledge development, which in turn will result in improved production and thus improved products. This knowledge development is often realised in partnerships with knowledge centres.
The highest product quality is obtained in high-quality production environments. Such products create high added value for customers and thus also for companies that sell them as customers are prepared to pay more for them. As a result, lead plants attract businesses with high added value and – on the other hand – products with limited added value are transferred to production plants in low-labour-cost countries, where standard products in high volumes are made. For these products, price erosion is inevitable, which – from a cost perspective – makes production even more challenging.
Therefore, increasing the manufacturing share in industry requires investing in production innovation. As the European manufacturing industry will be characterised by smaller series, mass-customisation and complex, high-added-value products, it is of paramount importance to be "best-in-class" in production next to making very competitive products to support a flourishing industry.
Key facts & recommendations
Lead plants attract businesses with high added value.
Spend R&D budgets on production innovation.
Be persistent in R&D production innovation to remain best in class.
Consider production as a driver for increased competitiveness and a potential profit centre.
All this will result in great Products, great Production and a great Industry.