AutoInfra: Infrastructure for autonomous vehicles
Through the "AutoInfra"-project we have realised test infrastructure at the Flanders Make Lommel site for co-creation, validation and demonstration of autonomous mobile (transport) systems with a focus on simulation models for validation of control and perception algorithms and capturing perception data in real working conditions.
In a modern, intelligent business environment, machines, production and transport systems are increasingly going autonomous. This allows them to be deployed more efficiently and make processes more qualitative. While the transition to autonomous mobile systems represents a great opportunity for companies on the one hand, it also brings many challenges. This both for the developers of the new technology and for the users of the new products.
Self-driving vehicles and all other autonomous mobile systems must be able to operate safely in all conditions and, for this, correctly perceive, correctly interpret and take appropriate action on any changing circumstance in the environment. In the development cycle of autonomous mobile systems, it is important to have real perception data as soon as possible and to use as many simulation models as possible when developing and improving the software and underlying algorithms.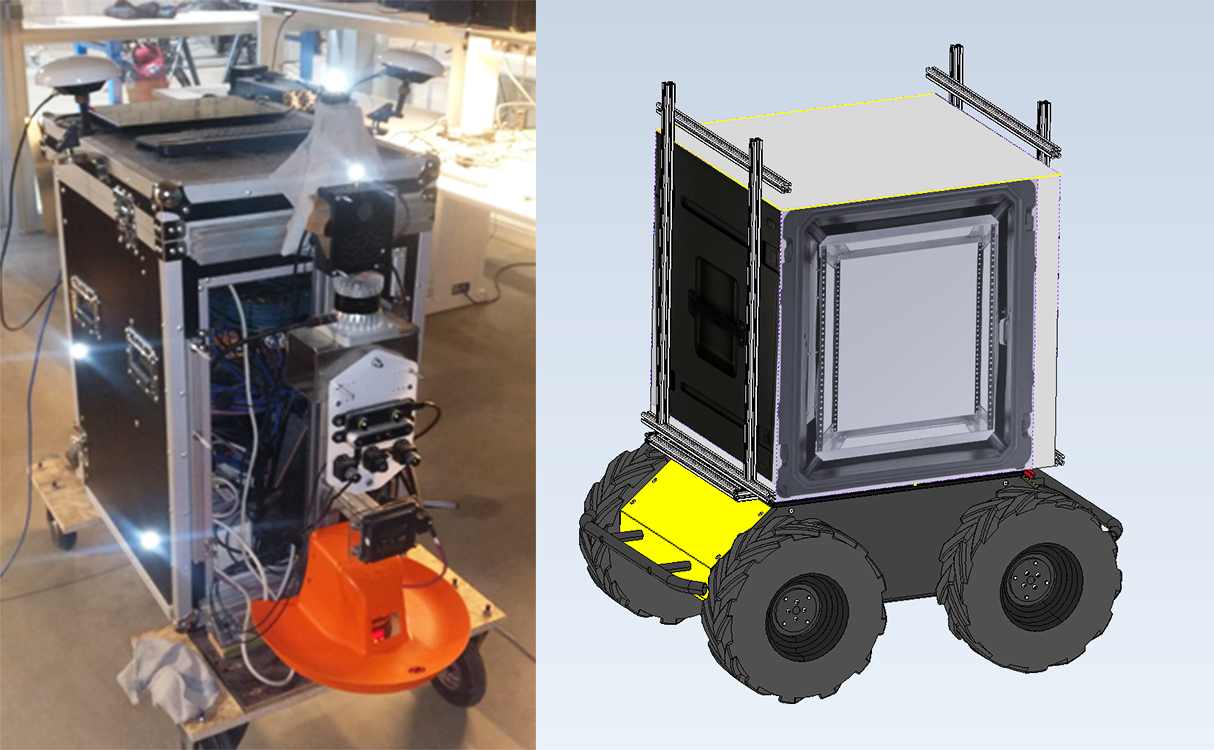 Available infrastructure
Within the AutoInfra project, Flanders Make has built infrastructure for capturing perception data in real-world conditions. Infrastructure capabilities include the capture of:
GPS-RTK data, with a position accuracy of 1cm
6 cameras for both a 360-degree view and stereo images
Lidar sensors
Radar sensors
Innovative types of sensors based on ultrasonic, sound, laser or light principles
Specifically for the robustness of outdoor mobile systems, the perception systems must also be tested in extreme weather conditions. To this end, the capture system has been adapted to:
Operate in rain and fog
Extreme sun and exposure situations
To extend the operating radius of the capture system, provision has been made to allow it to be mounted and moved both manually, on an autonomous outdoor AGV and on a forklift or tractor with a front-end loader.
The development and validation time and cost for an autonomous mobile system is substantial and can be reduced by using realistic simulation in the development of software and algorithms for perception and control. Flanders Make has established a selection tool for selecting the best simulation platform according to the requirements for accurate visual simulation and photo-realistic images and accurate motion simulation of the autonomous vehicle. The selection will choose between simulation packages with a low entry threshold such as Unreal, Airsim, Unity and Gaz

For the proposed simulation platforms, simulation models were created of the relevant infrastructure at Flanders Make, this includes both building infrastructure and autonomous vehicles.  Examples include the autonomous forklift truck in the indoor logistics environment and the autonomous tractor with front loader in the outdoor field environment.