Remote auscultation - FlandersMake@Uantwerpen
Flanders Make and UAntwerp search for a solution for remote auscultation
Auscultation, or medical listening to sounds in the body, is frequently required in the treatment of (lung) diseases. It enables the doctor to quickly monitor the patient's condition and treat it correctly. Unfortunately, it has a number of disadvantages for the medical staff, especially with highly contagious and life-threatening lung diseases such as Covid-19:
Doctors should wear sterile clothing when entering the Intensive Care (IC) room to listen to the patient's lungs.
For the treatment of every patient in the ICU, they should change their clothes and wash their hands.
This causes a huge loss of time for doctors. That is why Flanders Make and UAntwerp research a solution where doctors can perform a remote auscultation by means of a stethoscope attached to the patient. 
Role of Flanders Make?
The Flanders Make CoSys-labo at the UAntwerp came up with the following solution:
We attach a stethoscope to respiratory ICU patients. We then digitalize the signal from the stethoscope and send it to a central data server. Here a doctor/nurse can listen to the audio signal.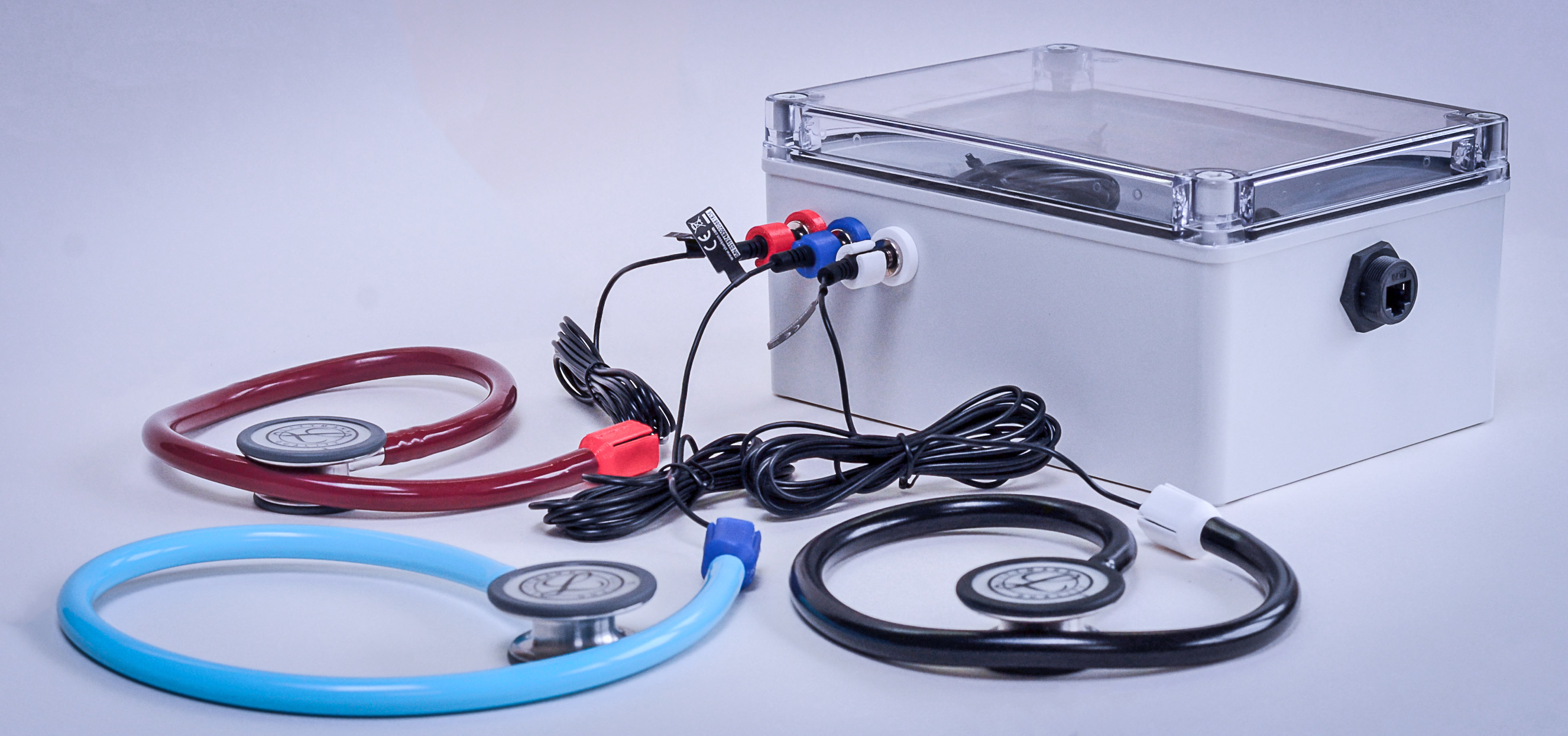 Project challenges
There are no digital stethoscopes available that support this type of operation.
Therefore, we modify the current stethoscopes with a 3D printed adapter and lapel microphones.
How are we going to realize the data transfer on the existing infrastructure?
RPI + USB sound card incl. integrated firmware for data transfer to user PC.
How are we going to disinfect the used materials?
The housings are designed for this and the stethoscopes are guaranteed to be disinfectable.
How do we provide the power supply without risk to the patient?
We choose the right power supply. There will be no electrical contact between the patient and the device.
How many cables are needed? Is a custom multi-cable needed?
We verify the necessity of multi-cable measurements and provide the possibility in our solution.
Are we going to automate the data analysis? 
We have algorithms for this, but it's not a priority for hospitals right now. First, they want to be able to listen to their patients remotely.