Key finding 5: The number of collaborative ecosystems is growing
Industry 4.0 report - What are companies focusing on now?
Key finding 5: The number of collaborative ecosystems is growing
Up to now, only 1 in 4 companies recognises the benefits of working together in ecosystems, which is a key driver for sustainable growth. Increasing awareness and active involvement can make a major difference for the competitiveness of our industry.
Being active in ecosystems, collaborating with knowledge partners and other companies and realising value chain offerings, will be a key driver for sustainable growth due to the speed of changes and the need for agility.
A remarkable finding is that only 12% of all companies are collecting data from relevant ecosystems. However, at Flanders Make we believe that the current challenges in terms of sustainability, circularity and climate change will only be tackled by working together. Collaborating in (and beyond) value chains will create trustful partnerships that lead to added value for the individual members as well as joint added value.
Only 24% of the companies are working together with third-party organisations within an ecosystem. Most of them only work together on an ad hoc project basis, and almost 20% say they prefer working as much as possible with their own resources. However, being part of an ecosystem will give companies major benefits as it gives them access to a vast amount of knowledge and experience of the individual members.
Relationships within such an ecosystem should be characterised by trust, integrity and commitment – key elements to create a sustainable ecosystem. This will enable members to have an open debate about distributing commonly generated value amongst the partners as the generated value is not always directly proportional to the costs incurred for it; this will be essential for setting up circular economy models.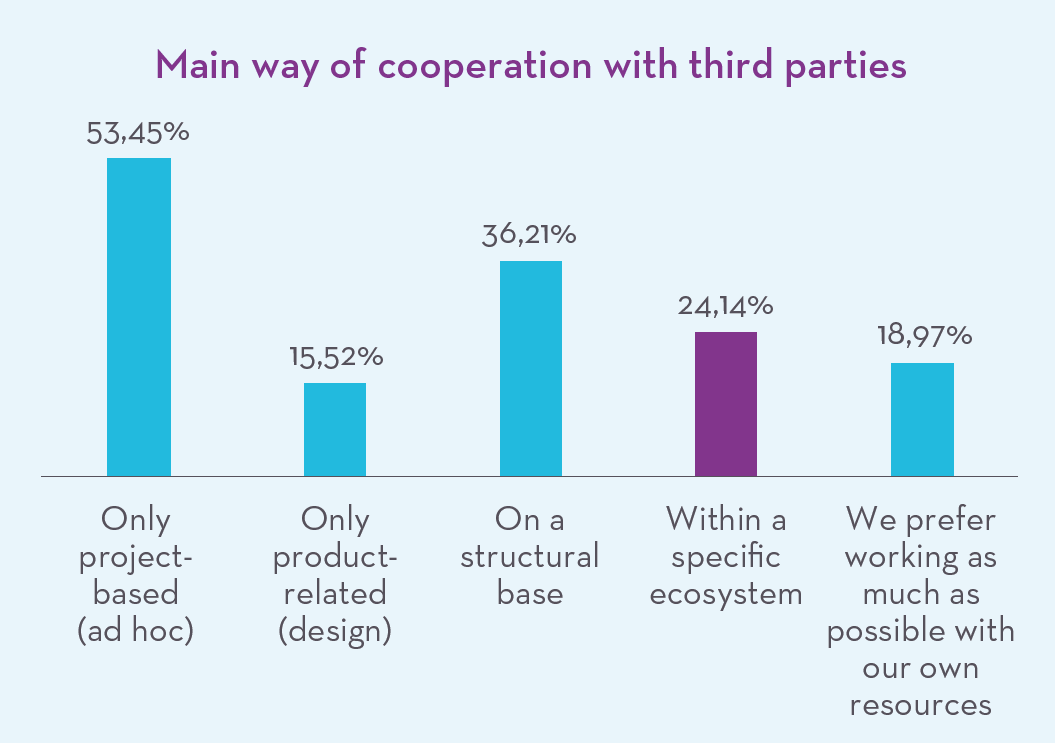 Blog: Ecosystems will rule the world
Our CEO, Dirk Torfs, wrote an article about the importance of ecosystems in business strategies. 
Download the complete report here
Would you like to know more? Fill in the form below to download the complete Industry 4.0 report.