Circular bonding kicks off
On 1 April 2021, the Circular Bonding project was officially launched. In this project Flanders Make, VITO en BIL combine their knowledge to guide Flemish companies in the sustainable design of their products with a view to repair, reuse and recycling.
Companies from various sectors (such as the automotive, mechanical engineering or construction industries) use adhesives for various assemblies. By using adhesives, they can efficiently connect multi-material assemblies. Moreover, the adhesive can provide air and water tightness, damping and weight reduction. Yet today, this joining technique is mainly known for its irreversible nature. This raises questions such as: "What if we have to repair or replace part of the product?" or "What are the recycling options at the end of the life cycle?". These new requirements, which fit into the thinking of a circular economy, require a new approach from the first stage of product design. 
COOCK-project Circular Bonding
With the COOCK project "Circular Bonding", the project partners want to offer the necessary support to the Flemish industry. We do this by:
The creation of industrially representative demonstrators, in which the current knowledge about reversible bonding is validated and demonstrated;
The creation of transparent business models and technical criteria for the creation of successful business cases;
The illustration of the impact on the entire product lifecycle;
Various workshops, seminars and a digital handbook in which the knowledge will be spread. In this way, we inspire companies to further develop their specific challenge with regard to dissolvable multi-material compounds in cooperation with (one of) the project partners.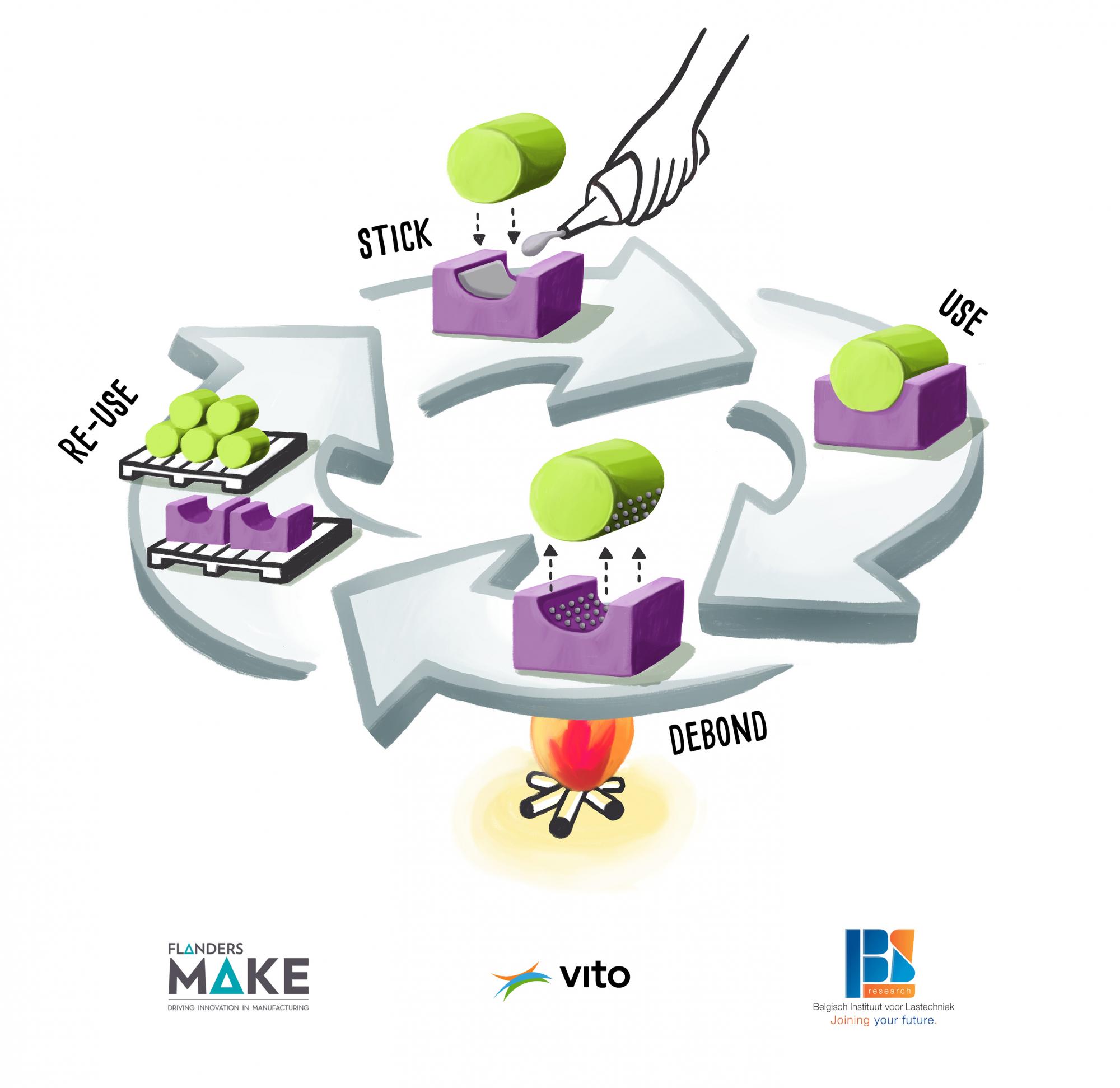 Interested?
Are you a Flemish company interested in being informed about the Circular Bonding project from the front row?  Then you can already register to take part in the (online) kick-off meeting, which will take place on 25 May, from 3 pm to 5 pm.  After that, you can decide whether you want to be part of the user group of this project. 
Registration for this kick-off meeting is free of charge, but mandatory. Afterwards you will receive the data for the online meeting.