Technology support for digital and flexible assembly environments
We offer digital assembly and production environments to speed up validation and deployment of Industry 4.0 production technologies. With our technology innovations in Virtual Reality (VR), Human-Robot Collaboration and the Industrial Internet of Things (IOT), we support manufacturing companies to make a leap forward towards a digitised and flexible assembly future.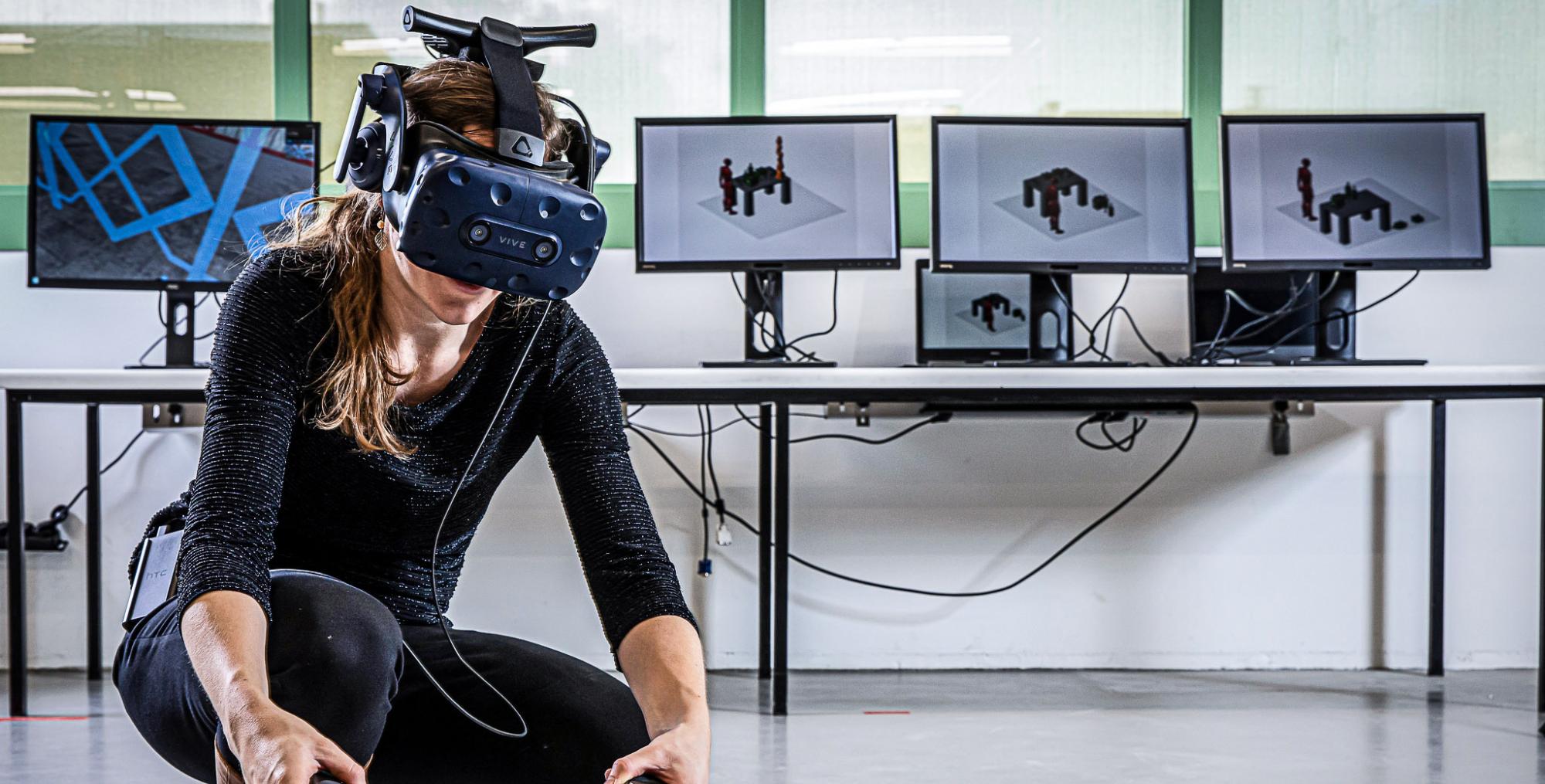 What do we offer?
Challenges
It is often not possible to physically tests new production systems before deploying them. Making wrong choices in this domain can be very expensive and therefore all risks are avoided. This slows down the innovation process of companies. At Flanders Make, we specialize in virtual models and digital approaches for production systems. Free of risks, we offer value in a wide set of applications e.g. work cell design evaluation, control logic testing, virtual robot programming by demonstration, operator training, virtual commissioning, … Following virtual de-risking, we can easier introduce an optimal solution and integrate it in your production environment.
Solutions
We offer:
Support in the research and use of virtual models as well as interaction with them via VR/AR/MR equipment.
Support in the set-up of Industrial IoT architecture, including proof-of-concept demonstration on our dedicated software.
Support in the exploration, design, development and evaluation of new digital tools and techniques to enhance the assembly process. We therefore use our knowledge on:

Developing custom VR-environments, often using Unity as a basic framework;
Capturing Image-based 3D scans of objects to speed up VR-model creation, and to enhance the realism of these models;
Make digital information accessible by providing appropriate interface designs, visualusations and interactions for a wide variety of modalities like Augmented Reality, Virtual Reality, Mixed Reality, and even for all kinds of wearable and mobile displays;
Our unique software and hardware
We use various specialised software and hardware tools in this process, such as:
Siemens mechatronic concept design
Visual Components
Siemens Jack
Siemens Plant Simulation
Techviz
Worldviz & Vroom
Customer success story
Arkite guides operators in production environments. With their software platform 'Human Interface Mate' (HIM) they assist operators in their tasks using Augmented Reality. For the calibration of sensors in this process, they called on Flanders Make. 
Problem
The 'HIM' combines AR with sensors to assist operators with their tasks in production environments. Unfortunately, the adjustment of each (3D) sensor to the customer-specific situation was very time-consuming. 
Solution
Computer-vision specialists of Flanders Make developed a calibration tool which allows for an easier and much faster recalibration of the (3D) sensors.
Customer value
Due to the development of the calibration tool, Arkite now gains a lot of time when installing their HIM platform at a customer's facility. Furthermore, as a small start-up, the cooperation with Flanders Make brought them into direct contact with researchers, technology enthousiasts and top engineers bringing extra amounts of expertise, passion and knowledge into their processes.