Key finding 6: AI and big data are the technologies that companies have the most confidence in
Industry 4.0 report - What are companies focusing on now?
Key finding 6: AI and big data are the technologies that companies have the most confidence in
Compared to 2019, AI and big data are still the technologies that companies have most confidence in. Now robotisation has also made it into the top 3.
Digital transformation refers to the incremental and disruptive adaptation of products and/or production plants to the digital age. The use of digital technologies such as artificial intelligence or smart sensors leads to new business processes and new customer experiences. In this way, organisations will be able to meet changing market demands and, in the end, create new business models. On the other hand, equal attention should be paid to a new corporate culture and the recruitment of digital talent. This is necessary to be able to reap the long-term benefits of the comprehensive digital opportunities that are available today.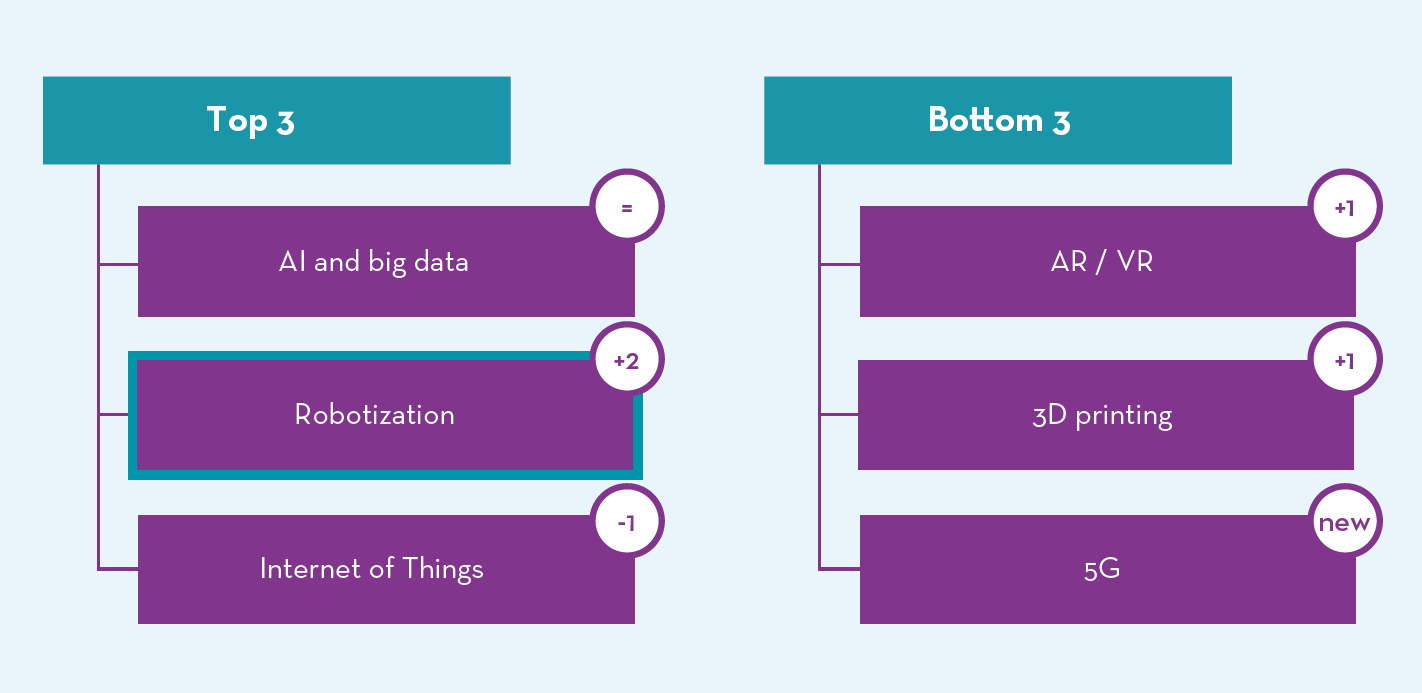 When asking which new technologies will have the most impact on the company, we see only small changes in the listing compared to 2019. Artificial intelligence and big data are still by far the highest rated technologies. Robotisation climbs two spots, claiming second place and pushing Internet of Things to third and smart sensors to fourth place. Digital twins and digital work instructions complete the top 6.
AI and big data
Big data is about collecting data generated by, for instance, machines or vehicles during their use. After having structured these big data, artificial intelligence algorithms can generate insights on these data. This is done on different levels, but the ultimate aim is being able to predict on the basis of (historical) data what will happen when and why. This knowledge makes well-informed (whether or not autonomous) decisions possible and thus enables companies to profit optimally from opportunities and avoid risks. In this way, data are transformed into actionable intelligence. Some potential applications are, amongst others, zero-fault production, operator-supporting functionalities or conditional maintenance.
Robotisation
Robotics and manufacturing are a natural partnership. Robotics play an increasingly important role in the manufacturing landscape today. Automated manufacturing solutions should be a key part of any operation that strives for maximum efficiency, safety and competitive advantage in the market. Manufacturing robots automate repetitive tasks, reduce margins of error to negligible rates, and enable human workers to focus on more productive areas of the operation.
Robots used in manufacturing take on numerous roles. Fully autonomous robots in manufacturing are commonly needed for high-volume, repetitive processes — where the speed, accuracy and durability of a robot offers unparalleled advantages. Other manufacturing automation solutions include robots that are used to help people with more intricate tasks. The robot executes parts of the process such as lifting, holding and moving heavy pieces.
Internet of Things
Not only people are almost continuously online, the same applies to systems. A smart thermostat measures when the temperature drops and will respond to this. It makes sure that you arrive in a warm house in the evening and it can be controlled remotely. This is no different in a production environment. Machines can be connected with one another and with the cloud. The industrial Internet-of-Things (IIoT) not only enables to program or control machines remotely, but these machines can also exchange data with one another. IIoT is expected to keep on booming in the coming years. Thanks to IIoT, actionable intelligence will become the new standard.
5G
At the bottom of the list, newcomer 5G is letting down in expectations by finishing in last place. So, in general, the manufacturing industry is not yet aware of the opportunities of 5G. However, we need a sufficiently fast and reliable internet connection for IIoT. 5G will play an important role in this. Without this new communication technology, digitalisation is not possible because 4G is often not strong enough. To maintain our technological edge, industry and associations alike are calling for a rapid introduction of the 5G network.
Download the complete report here
Would you like to know more? Fill in the form below to download the complete Industry 4.0 report.