Personeelsontwikkeling
Today, the insights on the impact of the 4th industrial revolution are growing. Companies with a clear Industry 4.0 (implementation) strategy have the ambition to become the best in product development and production so as to strengthen their competitiveness and improve their responsiveness to the customer. These companies are not stuck in pilot purgatory but are seeing the enormous – direct AND indirect – benefits. Furthermore, they contribute significantly to the transition towards a sustainable world.
The success of this strategy is to a large extent directly related to the attention that is paid to workforce development, in line with the company's digitalisation/Industry 4.0 strategy, challenges and needs. As a company, you should focus on upskilling and reskilling but also on redeployment of people with "non-matching" and/or "outdated" skills. This focus will lead to empowered people delivering more added value related to their intrinsic level of skills.
WHAT DOES INDUSTRY 4.0 MEAN FOR MY WORKFORCE?
The Industry 4.0 technologies that are currently available or will become available in the (near) future lead or will lead to:
Simplification of task complexity, for instance by using digital work instructions so that lesser skilled people can execute higher-level/more demanding tasks.
Using your company and workforce expertise in the background of your operations to advise employees, e.g. AI algorithms that run in the background of your product development software to capture expertise and use it to increase the efficiency of your designers, and to help them in their decision-making process and, as a result, increase efficiency and effectivity, e.g. OEE (Overall Equipment Effectiveness).
Assuring zero-defect production quality by (semi-)automatically adjusting production assets and using individualised work instructions. These should be provided at a tolerable speed and acceptable level of detail so that employees feel comfortable using them.
Capturing employee expertise to enable fast upscaling and adaptation of production. This will not only facilitate the integration of new employees, but also allows you to make personnel shifts, for instance due to illness or retirement of highly experienced co-workers.
Finally, a durable solution for employees with lower cognitive or physical capabilities. In zero-defect production environments, these employees can also create added value when they are, for instance, equipped with a cobot that serves as a second leg or hand, or with digital work instructions that provide step-by-step guidance for high-quality production results.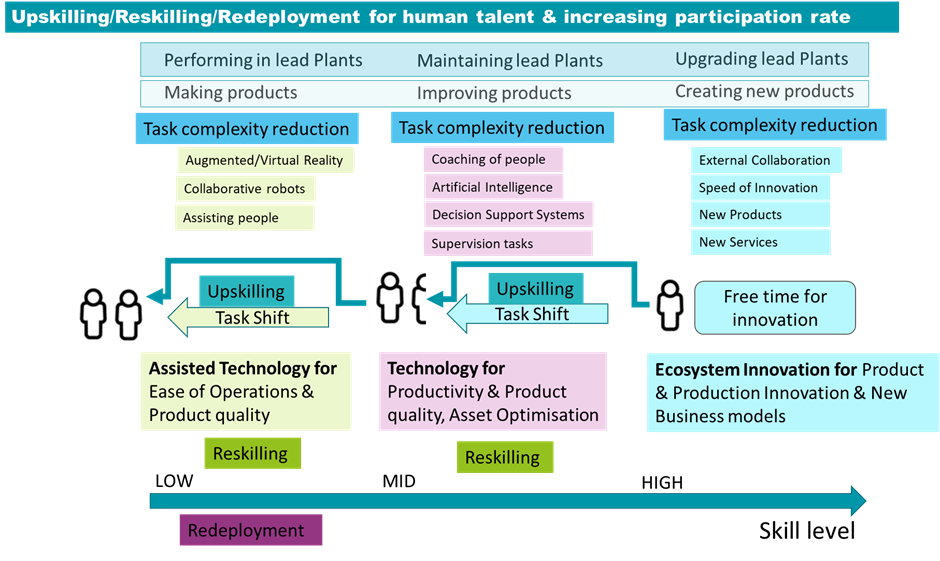 Motivation is key
Technology will not solve all problems. Your workforce will also need to upscale their knowhow of technical and soft skills, combined with on-the-job training. In this way, you will build expertise and make your employees more resilient and flexible. It is important to turnaround their mindset so that they start seeing these changes as an opportunity rather than a threat.
Motivating your employees is important and cannot be neglected. Creating an open, innovative and collaborative corporate culture helps to ensure that employees feel safe to contribute to the process of change, to make mistakes for improved learning and to run the extra mile.
Workforce development should be adapted to the employees' individual level of skills. The previous figure gives different possible trajectories for getting the most out of people's capabilities and for creating workable work and an empowering environment so that they can create more added value compared to before the training.
Task complexity reduction leads to creating more added value without the need for enhancing the level of skills. Using digital work instructions can also lead to task complexity reduction.
Skills upgrading through (classical) training or workshops combined with on-the-job training is a (traditional) proven method (cf. vocational training) for enabling people to create more added value within their job.
Technology support through digital work instructions on tables or projected on worktops helps operators to perform tasks and create more added value without the need or only a limited need for skills upgrading. Also, cobots can offer a solution for people with physical limitations (e.g. in sheltered workplaces).
Technology supporting systems (e.g. adaptable digital work instructions (in speed or type of content) can lead to both upskilling/learning by getting more and more experienced in executing a task and to reskilling people by learning by doing.
When combining all different tools for skills upgrading (training, digital work instructions, (remote) augmented reality, etc.) the workforce can gradually deliver more and more added value. The flexibility, resilience and adaptability to perform a diverse set of tasks leads to a versatile workforce that is able to create major added value and to respond to the needs for a high-mix, low-volume environment.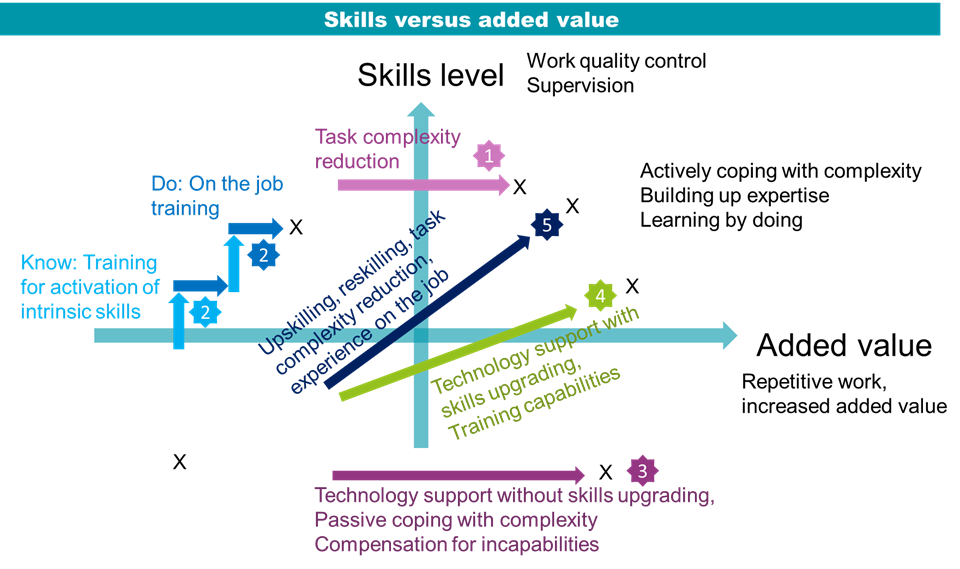 Industry 4.0 report
Do you want to know more about workforce development? Be sure to download our Industry 4.0 report! Fill in the form below and we will send you the report via email.
.